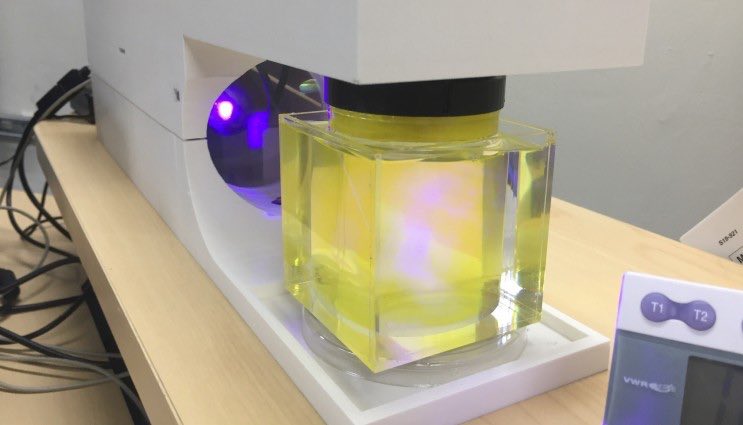 A new high-speed 3D printing method beams a three-dimensional video into a container of photosensitive resin. The video plays while the container rotates for a few minutes — then the fluid drains, leaving behind a complete, fully formed 3D object. The new method — called computed axial lithography (CAL) — is a breakthrough in additive manufacturing.
CAL creates entire parts at once. Taking inspiration from computed tomography (where x-rays are fired from different angles to image a 3D volume), CAL uses projected photons to illuminate the syrup-like resin, creating a continuously shifting video of projections as the vial rotates. Like a CT scan done in reverse, the projections combine to form a 3D object that is suspended in the resin. Most builds using CAL take several minutes to complete, many times faster than existing polymer 3D printing techniques, researchers said.
By using a projector, the researchers demonstrated they could shine 1,440 different projections (four beams per degree in 3D space) into the resin as it rotates. This makes the process easier to control than other laser-based volumetric methods, researchers said, and allows for much broader geometric flexibility, such as easily creating curves and smooth surfaces.
CAL also is cheaper than the multibeam volumetric approach, researchers said, because it employs a standard commercial projector and off-the-shelf chemicals. The flexibility, broad range of materials and ease of use make CAL a promising technology for industry, where scientists see potential applications in medicine and many other industries.
The process starts with a computer-aided design (CAD) model. The projection is calculated at each angle, researchers run an optimization algorithm and the result is a series of images that appears as a rotating video projection that can be played at a rate adjusted to the rotation of the resin vial. After several minutes, the 3D structure appears, the researchers stop the exposure and drain the uncured liquid, leaving only the finished product.