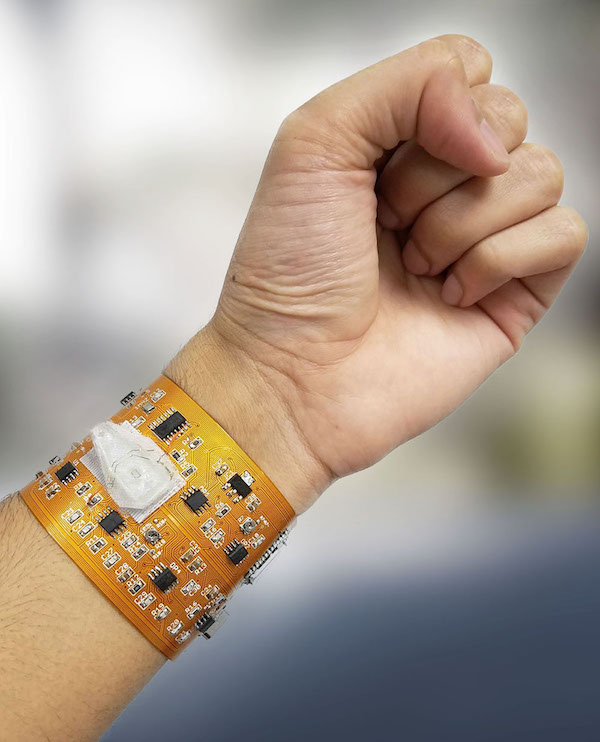 A smart wristband with a wireless connection to smartphones will enable a new wave of personal health and environmental monitoring devices. The technology, which could be added to watches and other wearable devices that monitor heart rates and physical activity, has a biosensor that can count particles such as blood cells, bacteria, and organic or inorganic particles in the air.
The plastic wristband includes a flexible circuit board and a biosensor with a channel, or pipe, thinner than the diameter of a human hair with gold electrodes embedded inside. It has a circuit to process electrical signals, a microcontroller for digitizing data, and a Bluetooth module to transmit data wirelessly. Blood samples are obtained through pinpricks, with the blood fed through the channel and blood cells counted. The data are sent wirelessly to a smartphone with an app that processes and displays data.
In the field, offices and hospitals, health professionals could get rapid blood test results from patients, without the need for expensive, bulky lab-based equipment. Blood cell counts can be used to diagnose illness; low red blood cell counts, for instance, can be indicative of internal bleeding and other conditions.
Next-generation wristbands could be used in a variety of biomedical and environmental applications. Patients would be able to continuously monitor their health and send results to physicians remotely.