The global big data market had a revenue of $162.6 billion in 2021.1 Data is becoming more valuable to companies than gold. However, this data has been used, historically, without contributors' informed consent and without them seeing a penny from the discoveries the data led to. This article discusses how non-fungible tokens (NFTs) can provide a helpful tool for pharmaceutical companies to track contributed data and compensate contributors accordingly. NFTs are unique, untradable cryptographic assets that can be tracked on a blockchain. NFTs provide a unique traceable token that cannot be replicated, providing a perfect tool to store biodata. The term biodata refers to details regarding a patient's history and behavioral patterns.
In a new application of NFTs, these assets can be assigned to represent that biodata, allowing it to be tracked and secured. NFT application to biodata would allow the owner of the data to control their information and monitor its use in research, as well as to claim compensation when new drugs and treatments are brought to the market as a result. The usefulness of NFTs from a contributor's perspective is clear, but for big pharma, this could be seen as detrimental to the functioning of research and development.
A Gold Mine of Data
Nowadays, people are often unconcerned with how their data is used, evident from the endless amounts of privacy policies online being accepted without reading them. This attitude is leaving many companies open to buy and sell data without contributors being aware.
This is not just an issue with companies such as Amazon and Facebook, who are known for data breaches: data misuse also occurs in privacy-critical sectors such as healthcare, where big pharma is undeniably a guilty party.
Historically, many pharmaceutical companies have profited from patients' data. Infamous is the case of Henrietta Lacks, whose contributions to medicine all occurred without her consent. In 1951, Lacks' cells were harvested without permission, cultivated, and used for research on vaccines, IVF, and more. This unwilling contribution went on to become a multibillion-dollar industry that has more than 17,000 patents involving her cells. However, the Lacks family never saw a penny.2
While this is unfair, without these cells many medical discoveries might not have occurred. Therefore, a compromise is needed when it comes to data usage, and NFTs can help achieve this.
The Solution from NFTs
NFTs provide a solution to consensual breaches with their capacity to trace, authenticate, and certify the data they represent. This would allow users to have control and forever ownership of their biodata while still providing beneficial data for research.
Many believe that the monetization of health data using NFTs will incentivize patients to offer up information in a transparent and fully informed way, making it easier for pharmaceutical companies to get relevant data. For example, if a company needs data on people of a certain age or gender, they can request it using an NFT to filter for those needs. This will save pharmaceutical companies from buying dummy data.
NFTs will also allow for better data integrity for purchasers. The blockchain technology that tracks NFTs would allow companies and research groups to verify the authenticity of the data they buy. The use of NFTs will provide transparency and accountability to data exchange that will benefit all parties, but most importantly, NFTs will help improve the public trust and opinion regarding the drug industry.
Implementing an NFT System
An example of NFTs used for biodata is Rejuve, a spin-off company of SingularityNET (see the sidebar, "About SingularityNET"). Rejuve is a longevity research project aimed at extending human life using biodata voluntarily given through a dedicated app. Contributors' data will be represented and tracked using NFTs.
The use of NFTs allows Rejuve to track each data contribution so that data donors can be rewarded accordingly with fungible tokens created specifically for the platform, known as RJV tokens. These tokens will be redeemable for supplement discounts, medical tests, longevity therapies, and more. This differs greatly from how bio-data is traditionally handled in healthcare, as contributors will know exactly why and how their data is used while contributing to decentralized collaborative research.
"It's only a matter of time before the industry accepts the technology's growing presence — and patients' demands to be involved in the exchange of their personal information," says Kristin Kostick-Quenet, author of the Science article "How NFTs could transform health information exchange." "As the ethos of decentralization with greater democratization and personal control of one's digital information gains traction, it's going to be impossible for pharma and other big industries to ignore that movement," she says.
The implementation of health data NFTs will provide accountability and patient control. However, this technology cannot succeed in achieving this unless all parties can appreciate the benefits of its use. To usher in this game-changing method of data tracking, pharmaceutical companies will need to get involved, and, in turn, these companies will likely see an increase in relevant and integral data for research. With the backing of big pharma, health data NFTs will help create a more democratic healthcare industry and promote a more decentralized and transparent future.
This article was written by Jasmine Smith, CEO, Rejuve, Amsterdam, The Netherlands. Contact: This email address is being protected from spambots. You need JavaScript enabled to view it.. For more information, visit here .
References
"Big Data Market by Component, Deployment Mode, Organization Size, Business Function (Finance, Marketing & Sales), Industry Vertical (BFSI, Manufacturing, Healthcare & Life Sciences) and Region – Global Forecast to 2026," Markets and Markets.
M. Ahluwalla, "Genetic Privacy: We Must Learn from the Story of Henrietta Lacks," New Scientist, Aug. 1, 2020.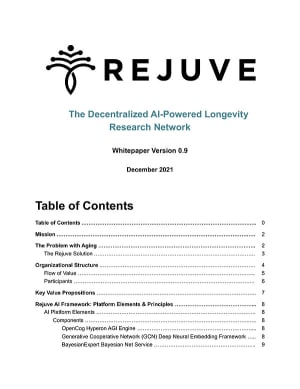 The Decentralized AI-Powered Longevity Research Network
Download this free supporting PDF from SAE MEdia Group!
Don't have an account? Sign up here.
---