The healthcare supply chain has faced extraordinary challenges over the past few years, and a need for modernization has become apparent. Today, the supply chain is ready for a major upgrade that will drive operational improvements across the industry, while providing safer, better patient care. The manufacturers of medical devices and pharmaceutical products can lead the way by prioritizing adoption and implementation of data standards that enable industry stakeholders to share supply chain information in real time. When the standards are adopted by all healthcare trading partners, including wholesaler/distributors and healthcare providers, a dramatic, technology-enabled transformation will unfold.
Digital information systems are being used to enhance supply chain visibility so that healthcare products such as medical devices, pharmaceuticals, and other supplies can be accurately identified, located, tracked, and traced as they travel through the supply chain from point of manufacture to point of use. The goal is to give healthcare providers access to up-to-date, accurate product and location information so they can effectively manage orders and inventory, ensuring availability of products when and where they are needed for patient care. It's a big step up from the chaos of 2020, and as a result, the healthcare industry could be far better prepared for the next crisis.
However, the success of these efforts depends upon an industry-wide, collaborative commitment to establishing and maintaining up-to-date, accurate information that can be readily exchanged between all stakeholders.
Making It happen
To substantially improve product visibility as intended, three components need to be addressed by industry stakeholders: standardization, interoperability, and data quality.
Standardization. Data standards provide a common language to identify, capture, and share information about products as they move through the supply chain. The GS1 Global Trade Item Number® (GTIN®) is used in healthcare to identify medical devices, pharmaceuticals, and other supplies. Locations are likewise uniquely identified with GS1 Global Location Numbers (GLNs) to facilitate tracking and tracing. These standards are needed to improve basic healthcare supply chain functions such as product identification, order to cash (OTC)/procure to pay (PTP) processes, and traceability. Without standards, individual organizations are left to depend on their own internally generated product identification schemes, creating silos of proprietary information that is confusing, restrictive, and labor-intensive outside the company's own walls. Product and location identification must be standardized so that all supply chain stakeholders are able to send, receive, and understand information about them in real time.
Interoperability. Data becomes powerful when it can be successfully exchanged and synchronized between organizations. Once product information has been standardized so all parties can use it, a reliable mechanism is needed for successful data exchange; interoperability enables different systems to communicate with one another. Scanning equipment is needed at key points in the supply chain to capture product information from barcodes, for example, and each resident IT system must be properly configured to ingest and process the data. Early stages of onboarding require collaborative testing to make sure each organization's data is in sync.
Data quality. None of these improvements is possible without the full commitment of all stakeholders to ensure high-quality, up-to-date, accurate data about their products, locations, and supply chain events (e.g., shipping, receiving, etc.). The generation and maintenance of interoperable data quality requires an overall program that includes executive leadership support, commitment to standards-based data, and processes to validate that consistent, complete, timely, and accurate information is being captured and utilized for both internal processes and external sharing. Diligent data governance is essential.
These three requirements work together by establishing a framework for sharing key information to enable effective collaboration between entities (manufacturers, wholesaler/distributors, providers) in the supply chain. In essence, data standards are essential to interoperability, which is only useful when the data itself can be trusted.
Work in Progress
Medical device manufacturers are already updating their product data to address the U.S. Food and Drug Administration's (FDA) Unique Device Identification (UDI) rule requirements. The rule stipulates that medical device labels and packages must be marked with a unique device identifier in both human-readable text and a machine-readable, automatic identification and data capture (AIDC) format such as a barcode. The device data must also be uploaded to the U.S. FDA's Global Unique Device Identification Database (GUDID), which serves as a reference catalog for every device with a UDI.
Supply chain partners, including wholesaler/distributors and third-party logistics, or 3PL, firms, should begin capturing and exchanging that data with suppliers to create a detailed tracking history. While healthcare providers are not yet required to do so, integrating the standards within their systems will enable interoperable data sharing across the entire ecosystem and unlock full end-to-end product visibility. When that happens, the cumulative benefits of an entirely synchronized, transparent supply chain will be most dramatically experienced at the point of care.
With full visibility, care providers will know when products will be available and will have access to key product attributes, allowing an additional layer of security to ensure accurate product ordering, inventory, and application at point of care. The UDI and other relevant product details can even be scanned into patients' electronic health records (EHRs) to provide unprecedented visibility into product efficacy and fitness for use over time. If a device or component is later recalled or updated with new features, clinicians will be able to identify and follow up with affected patients. Providers will have a longer view of patient outcomes to inform future decisions about product purchasing and use in patient care.
Data-Sharing Platforms
Healthcare stakeholders can use a variety of sources for providing and obtaining information about the products they sell, buy, and use in the administration of patient care. Data can be shared directly (one-to-one) via spreadsheets or text files or downloaded from the GUDID; or they can be shared in a "one-to-many" tool like the GS1 Global Data Synchronization Network™ (GDSN®), a repository of product data designed for this very purpose.
The GDSN is a standards-based solution that offers healthcare companies a highly efficient, automated process for keeping product information reliable, properly formatted and up to date (see Figure 1). It provides a framework for including standardized vital attributes such as GTINs, GLNs, brand and manufacturer names, and more. Any data changes made to one company's database can be automatically and immediately provided to all the other companies who subscribe to the data. This lays the foundation for improved data quality, visibility, efficiency, and effectiveness to help drive costs out of the supply chain and enhance patient safety.
No matter how data is shared and accessed, it's essential for that data to be complete and consistent across all sources and industry trading partners. Inaccurate or incomplete data will impact the integrity of the entire system.
Purposeful Data
Providers are discovering a variety of benefits from their efforts to standardize and exchange high-quality data both internally and with their trading partners.
Carl Gomberg, lead solution analyst, ITS Cost Management at Premier, Inc. explains, "Robust and accurate data is critical in enabling our member hospitals and health systems to reduce costs and realize operational efficiencies. Put simply: it is impossible to achieve good outcomes from bad data. We're continually improving our technology systems by seeking out high-quality data from trustworthy sources and developing better ways to fortify and manage product data internally. Members who have worked with us to adopt GS1 Standards have reduced misshipments and procurement expenses and will reap the additional benefits of standards as they become more widely used across the industry."
Healthcare industry leaders are united in advocating for a modernized supply chain system that leverages standards and digital technology to achieve interoperable communications for improved efficiencies, broader visibility, and better patient care. The Association for Health Care Resource & Materials Management (AHRMM), Healthcare Supply Chain Association (HSCA), Strategic Marketplace Initiative (SMI), and GS1 US have jointly recommended "broad and swift adoption and use of standards" to advance these goals.
In today's digital age, data is becoming widely recognized as a vital business asset that can be leveraged to enable a wide range of improvements across industries (see Figure 2). The success of supply chain improvements hinges on the quality of the data itself. Quality product information is not only essential to the efficient and effective operation of the healthcare supply chain but also critical to providing safe and efficient patient care.
This is where organizations must invest immediate and long-term resources. Successful data management starts with a major cleanup to standardize, update, and correct old or inaccurate data within an organization's systems. It does not end there; continuous maintenance of the data must be recognized as a vital asset and supported with ongoing, fundamental priority in each company's business operations. Without trusted data, the vision for healthcare supply chain falls apart.
Establishing Trust
Trading partners need to know they are exchanging reliable, trustworthy data about the products they handle. For data to be trusted, it must be accurate, complete, timely, consistent, and synchronized across organizations.
While working on product identification to meet UDI requirements, Siemens Healthineers recognized an opportunity to elevate its data management and governance practices. "Treating our data as the valuable asset that it is, not only for compliance purposes but also for streamlining our operation, has created new value both internally and externally. Internally, we can use the data as a basis for business intelligence and analytics and externally, to reinforce trust with trading partners," says Scott Mathis, vice president, engineering, Siemens Healthineers.
"Data quality is one important by-product that came out of the UDI project," says Bodo Winkler, head of Siemens Healthineers' Quality and Program Management Office and executive sponsor of Global Siemens Healthineers UDI Implementation. "There is now a clear organizational awareness of the value of data, and an ongoing focus on data quality supported by a strong data governance process."
Guidelines and Resources
With concerted, collaborative effort, transformation of the healthcare supply chain will improve industry performance and patient safety. Collaboration between trading partners is essential, and it must begin with high-quality data as a foundation for success.
This article was written by Beth Wells, Senior Director Community Engagement, Healthcare, GS1 US, Ewing, NJ. For more information, visit here . To help supply chain partners establish high-quality data and interoperability, GS1 US offers several informational resources here .
Read the joint statement.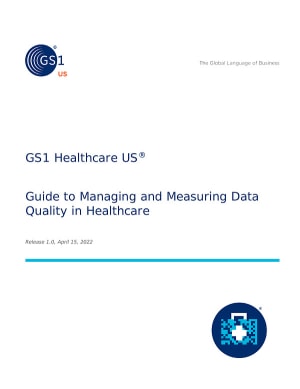 Guide to Managing and Measuring Data Quality in Healthcare
Download this free supporting PDF from SAE MEdia Group!
Don't have an account? Sign up here.
Read more on managing and measuring data quality.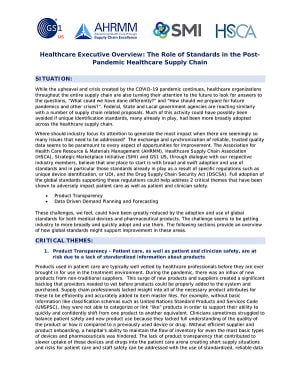 Healthcare Executive Overview: The Role of Standards in the Post- Pandemic Healthcare Supply Chain
Download this free supporting PDF from SAE MEdia Group!
Don't have an account? Sign up here.
---