Page 2 of 2
Identifying User Needs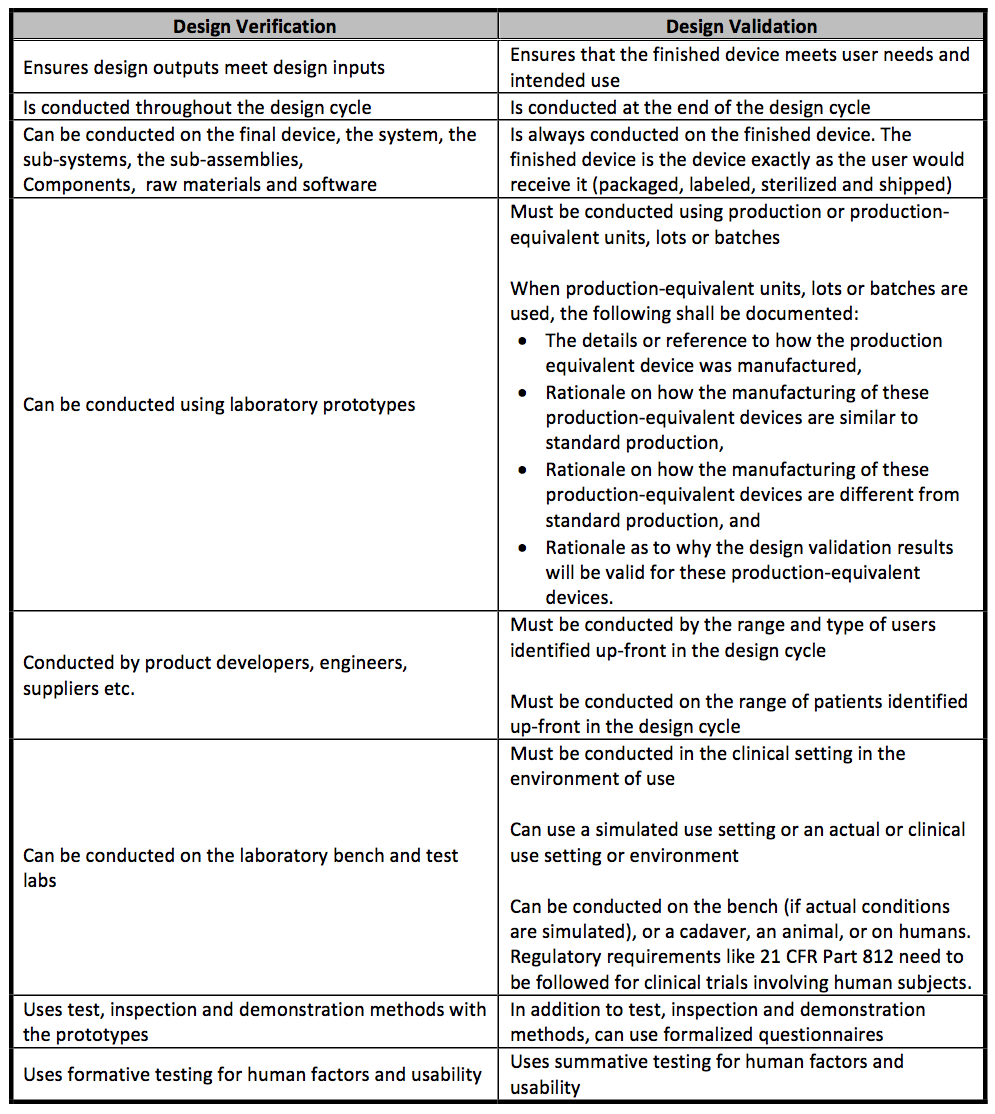 Successful design validation can only occur if the user needs and intended use have been well defined at the very beginning of the design and development phase. One of the major reasons for product failures over the years has been the inability of devices to meet the user and market needs.
Those companies that have honed their skills in effective market intelligence and "product usability intelligence" demonstrate higher success rates in both new product launches and lower incidences of use errors and device failures in the field. In order to design, manufacture, and sell the right product, companies should develop methods and processes to listen to the customers and users, know what the users do, and understand how they use the product (see Figure 3).
Listen to the user and customer – Several tools can be used to identify user needs. Voice of the customer (VOC) methods can involve interviews, focus groups, surveys, and initial prototype usability evaluations. It is important to know how users verbalize their needs with respect to what is said and what is unspoken. Facilitating the discussions and asking open-ended questions can further elicit valuable information. Listening skills are crucial to the effectiveness of understanding what the users are saying and communicating.
Know the environment of the user – Contextual inquiry is a specific type of interview for collecting information from users. It is usually done on a one-to-one basis. Interviewees are interviewed in their work environment, when doing their tasks, with as little interference from the interviewer as possible. Information and data gathered during such interviews should be unbiased.
Observe how the user uses the product – Observing how the users will use the product within their use environment can also provide valuable information with respect to usability (either ease of use or difficulty of use), potential use errors, and indications of potential safety and effectiveness defects of the product. The device-user interface needs can also be identified.
Using cross-functional groups that include marketing, regulatory affairs, engineering and clinical/medical to participate in the identification and documentation of user needs will ensure that all the different perspectives are captured in the process.
Conclusion
Common best practices to obtain the user needs and develop the right product are:
Seek user input early and often.
Partner with strategic users and customers.
Refine the design through the design and development process.
Ensure that usability, human factors, safety, and effectiveness are addressed.
Identify and address use errors and device functionality and performance failures.
Plan design validation in the early stages of the development once user needs have been identified.
Conduct design validation with the right users, in their use environments, complying with all applicable regulatory requirements.
Successful design validation predicates identifying the right user needs, designing the right product, identifying and addressing all risks, and verifying that the product meets all requirements. Designing, manufacturing, and selling the right product can lead to customer and user satisfaction, increased sales and revenue, and high-quality safe and effective products.
References
21 CFR Part 820 – Quality System Regulation 7 October, 1996.
ISO 13485:2003 Medical devices — Quality management systems — Requirements for regulatory purposes.
ISO 13485:2016 Medical devices — Quality management systems — Requirements for regulatory purposes.
ISO 14971:2007 and ISO 14971:2012 Medical Devices – Application of risk management to medical devices.
IEC 62366-1:2015 Medical Devices Part 1 – Application of usability engineering to medical devices.
ANSI/AAMI HE75:2009 Human Factors Engineering – Design of Medical Devices.
Vinny Sastri, Ph.D., is president and founder of Winovia LLC, Chicago, IL. For more information, click here.