Page 1 of 3
The 14th annual "Create the Future" Design Contest for engineers, students, and entrepreneurs worldwide, sponsored by COMSOL and Mouser Electronics, attracted more than 1,100 innovative product ideas from engineers and students in more than 71 countries. The Medical category itself received 88 outstanding entries from 32 countries. Analog Devices and Intel were supporting sponsors. The contest, which was established in 2002, recognizes and rewards engineering innovations that benefit humanity, the environment, and the economy.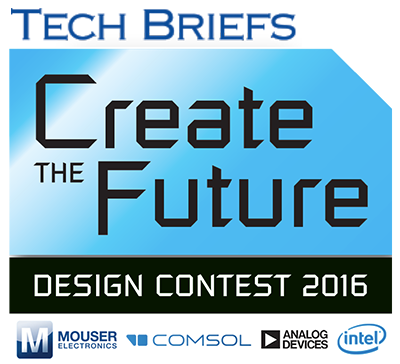 Winners were selected in late September from the seven categories: Medical Products, Consumer Products, Electronics, Machinery/Automation/Robotics, Sustainable Technologies, Automotive/Transportation, and Aerospace & Defense. In addition to product ideas at the concept or prototype stage, contestants could submit designs for commercial products introduced to the market within the last 12 months.
The grand prize winner receives $20,000, while the first-place winner in each category receives a Hewlett-Packard workstation computer. The top 10 vote recipients also receive prizes. The most popular vote recipient receives a GoPro® camera. The others receive a Sphero® BB-8™ Droid™ or robotic gaming system.
In addition to the winner and honorable mentions listed here, there were winning entries in other categories with medical applications. In the Consumer Products category, the X-Drive Powered Wheelchair Conversion converts conventional wheelchairs into powered ones. In the Machinery/Automation/Robotics category, the 3rd Arm – A Wearable Robotic Limb for Augmenting Human Abilities is a wearable robotic assistive device designed to be used to restore lost functions or add functionality to amputees or to patients diagnosed with brain stroke, multiple sclerosis, or Parkinson's disease.
This article introduces the Medical Category winner as well as four Medical Category Honorable Mentions. The top prize winners will be honored at an awards reception in New York City this month. Congratulations to all who entered. All of the entries can be seen at http://contest.techbriefs.com/2016/entries/all .
MEDICAL CATEGORY WINNER
Continuous Wearable Blood Pressure Monitor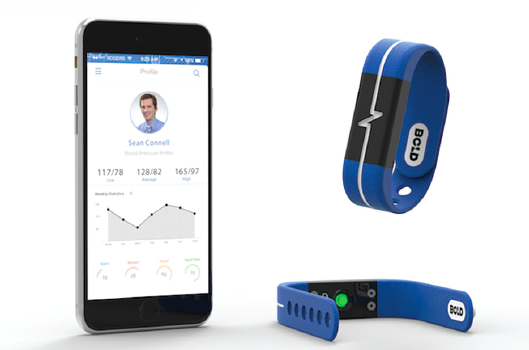 Sean Connell, Kyle Miller, Jay Pandit, and Jung-En Wu, Bold Diagnostics, Evanston, IL
High blood pressure affects 1 billion individuals globally and more than 80 million in the United States. Hypertension is the leading risk factor for coronary artery disease, stroke, heart failure, and chronic kidney disease. Nearly 70 percent of all healthcare expenditures ($170 billion) in the United States are spent managing complications resulting from uncontrolled blood pressure. Notably, high blood pressure is a modifiable risk factor that can be managed with adequate monitoring.
Despite the overarching implications, blood pressure monitoring remains limited by poor diagnostic solutions like the traditional blood pressure cuff that provides inaccurate and infrequent measurements confounded by procedural limitations. The only solution to circumventing these limitations is the ambulatory blood pressure monitor. Current ambulatory monitors consist of a blood pressure cuff programmed to inflate every 15 minutes for a 24-hour period to take repetitive discrete measurements. Despite the benefits, ambulatory monitoring remains limited because of logistical constraints, expense, and poor patient compliance as a result of discomfort.
There remains a clinical need for a noninvasive, unobtrusive monitoring system that can acquire accurate blood pressure measurements with greater frequency to properly manage hypertension.
Bold Diagnostics has addressed the unmet need by developing an innovative low-cost diagnostic platform that consists of a set of wearable wristbands that continuously measure blood pressure and a smartphone application that uploads a report into the patient medical record for clinician review (see Figure 1). The solution provides accurate measurements with greater frequency, which enables clinicians to positively impact clinical outcomes with proper blood pressure management.
The wristbands calculate blood pressure based on Bold's patent pending Differential Pulse Arrival Time (DPAT) technology. DPAT states that the pulse wave generated by the heart contracting arrives at the right before the left arm because of an inherent delay created by the anatomy of the aortic arch. Bold has further discovered that the difference in arrival times is an indicator of blood pressure.
Bold has developed a working prototype and conducted preliminary clinical studies under an approved IRB protocol that demonstrate proof of concept. The clinical study (n=15) demonstrated (i) a consistent difference in pulse arrival times between the right and left hands and (ii) a strong correlation between DPAT and blood pressure (±5 mmHg) in comparison to control measurements. Study results suggest DPAT is a viable method for continuously measuring blood pressure.
The company has developed a strategy focused on direct distribution to tertiary care centers for a price between $155–$195 at cost of goods sold at $25–$40. Following the prescribed monitoring period, the physician will review the report and charge insurance providers for reimbursement with established CPT codes for ambulatory monitoring. Bold anticipates a 510(k) application for market entry by 2018.
The company aims to redefine the way blood pressure is measured with its wearable wristbands to empower clinicians to effectively manage hypertension and improve clinical outcomes.
For more information, visit http://contest.techbriefs.com/2016/entries/medical/6724 .
HONORABLE MENTIONS
Infant Care System — A Therapeutic Wearable for Babies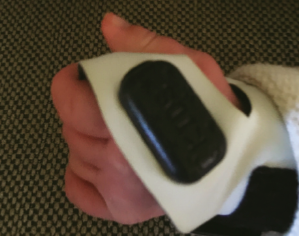 Diego Delia, Clinton Allen, and Omar Mohammed, Apnosystems, Buenos Aires, Argentina
The Apnosystems Infant Care System (ICS) device is a life-saving medical intervention that can cause a sleeping infant who has ceased breathing to stir and resume breathing. This wearable device will change the way we care babies, both in the hospital and at home.
Premature, low birthweight babies, postoperative babies, and those with congenital defects are at higher risk. Such infants may suffer critical situations during sleep resulting in temporary brain damage, permanent brain damage, or death. The device can also help to protect babies with diagnosed unstable airway conditions. If an airway obstruction results in low blood oxygen saturation, the device detects the hypoxia and provides an intervention stimulus.
Anesthesiologists agree that when a patient is in trouble, the problem must be addressed in a matter of seconds or minutes. The ICS is a device that acts automatically and within seconds. The ICS helps in three ways: by monitoring, intervening, and gathering new and valuable data. This device, which is a first of its kind, wirelessly integrates pulse oximetry with data gathering and a rescue stimulus. The device consists of a glove that houses the sensor and the stimulus circuitry, a pulse oximeter sensor, controlling logic, and low-energy Bluetooth for communication with smartphones, tablets, and PCs (see Figure 2).