Page 1 of 2
The medical device industry often gets attention for its innovation and constant evolution. However, even the most innovative medical device technology is of no use if its integrity and functionality aren't protected. The expanding medical packaging industry is in step with medical device innovation to ensure safe delivery of medical products. As medical packaging solutions advance, what do you need to know to realize their advantages for your business?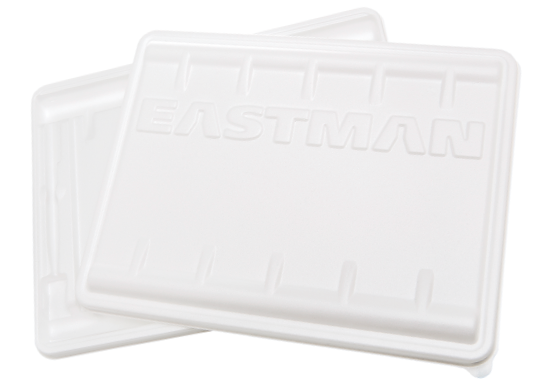 Four key packaging trends are affecting how original equipment manufacturers (OEMs) approach the industry and its current challenges, and even how OEMs develop innovative solutions. Those trends are:
Increasingly extensive testing methods and validation protocols.
Alternative materials are employed in the medical market to proactively address public apprehension around materials of concern.
The increased usage of cold temperature storage for combination devices and biologicals.
Holistic approaches to improve the bottom-line cost performance.
We'll explore these key trends and provide insights for OEMs into the trend itself, how it is affecting them, and the solutions available.
Validation Protocols Help Ensure Patient and Device Safety
Patient safety and regulatory compliance remain at the core of the medical device industry. This includes the medical packaging that is an integral part of any medical device product. Impact protection, sterile barrier integrity, and ensuring shelf-life for the lifecycle of the product are just a few of the demands of medical packaging design.
As packaging is tasked to meet the ever-evolving needs of medical device technologies, the demand for innovative materials also increases. A well validated package can help prevent failures and perhaps allow for smoother audits with fewer or no nonconformances. In an industry where robust process control is the key way to ensure compliance and patient safety, it isn't surprising that so much time and effort is focused on both the product and its package.
OEMs can help ensure better outcome of the validation process by involving material suppliers early on to provide support and expertise around material performance. Suppliers that carry out extensive testing in accordance with the industry standards (such as ISO10993 and ISO11607) can provide material expertise and bring value during this critical phase of the development process.
Alternative Materials for New Solutions
With the rapid advancement of medical packaging, OEMs are seeking innovative solutions, as well as solutions for existing weaknesses. Packaging materials of the past are failing under present day demands, not meeting end-user needs, or not delivering on patient safety. End users are increasingly aware of potential materials of concern, like bisphenol A (BPA) or styrene, and are looking into solutions that avoid those ingredients. OEMs, too, have an ear to future legislation that could limit the use of certain materials, and some want to get ahead of those potential legal changes.
In fact, concerns around styrene continue to gain attention, especially when used in medical packaging that is intended to house devices. From a safety and sustainability standpoint, styrene packaging has been identified as a concern under many healthcare systems' Environmentally Preferable Purchasing guidelines. Globally, apprehensions are growing around the use of polystyrene (PS) when used in the same type of applications. Some are already looking for material alternatives because of the possible risk associated with particulate contamination, especially for implantable or fluid-path medical device applications. This is enough to steer some to evaluate other options.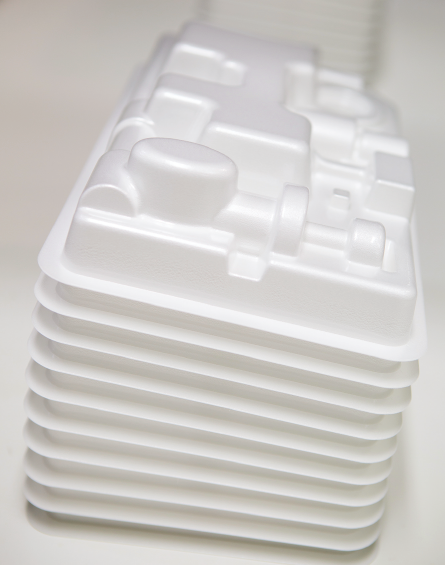 Material suppliers are listening to these concerns and addressing them by developing alternative solutions to provide choices. For example, a specialized copolyester can be used as a styrene-free alternative to high-impact polystyrene (HIPS). It can be thermoformed and used to make opaque medical packaging and significantly decrease the occurrence of particulates and angel hair. Exhibiting much less brittleness than HIPS, it also can decrease package failure in the field while retaining the critical sterile barrier. Whether it's critical cardiovascular devices, orthopedic implants, or handling of biologics, the cost-effective material — made without materials of concern, including BPA, orthophthalates, and polyvinyl chloride — can provide improved performance and reduction in total cost of ownership (TCO). This is an advantage compared with some of the brittle HIPS alternatives, which may crack due to a decrease in performance after sterilization.
Furthermore, sheet extruded from the copolyester can be processed with the same thermoforming, trimming, and sealing equipment as HIPS. The formed copolyester, for example, requires less processing energy, which often yields higher throughput. This offers greater opportunities for increasing process efficiencies and creating more sustainable packaging.
Cold Storage Needs
Growth in combination products, where product is defined as being comprised of two or more regulated components by the U.S. FDA (See 21 CFR 3.2(e)), adds to the complexity of requirements and regulations. Some combination devices, such as those including biologics, have very different needs. These include good material performance at temperatures as low as -180 °C, which often pushes the performance limits of most polymers.
Maintaining product protection and sterile barrier in these new environments requires innovative packaging materials. Whether it's the handling of biologics during manufacturing, freezing/ thawing multiple times during various phases of the process, or protecting the final product itself, a copolyester may provide the right functionality in environments where other materials fail. With its excellent performance under cold temperature conditions, this clear material has been observed to provide inherent toughness that proves dependable even in cryogenic conditions.
A Holistic Approach to Decreasing TCO
All industries and markets are actively seeking to improve performance and lower cost. The medical packaging market is no different. However, this can be challenging, particularly when balancing costs and risks.