Page 1 of 3
An experienced, recommended, custom furniture professional came over to my house to bid on building a low-profile cabinet for a flat-screen TV with shelves, off the ground to save space in a small family room. I had a clear vision of what the finished product would look like. The vendor listened thoughtfully, looked around the room, and said "I don't want to talk myself out of a job but why don't you mount the TV above the mantle, run the cables through the ceiling to your components in the pantry and use a RF remote to control everything." I felt stupid initially but was really pleased with the outcome I never would have come up with on my own.
Time to Market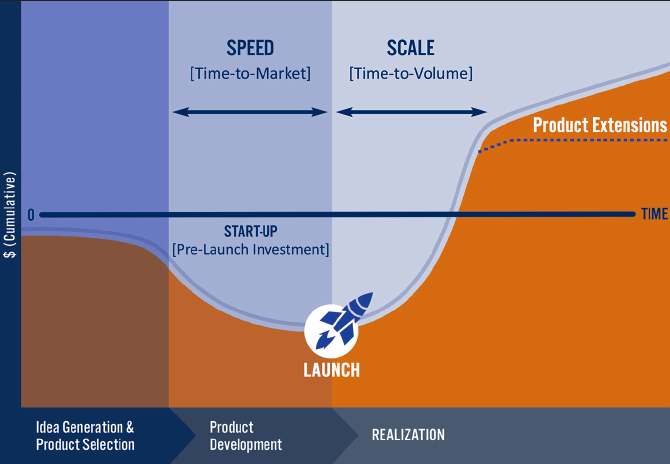 To speed time to market with highly differentiated, competitive products, there are several critical elements to consider during the input-output matrix phase of your project.
R&D should participate with the customer/medical advisory board interview process because each person will hear something different from customer feedback and the resulting performance characteristics should be a blend of what multiple experts heard them say.
Upstream Marketing needs to be disciplined and specific about what they want the new product to do, listing key prioritized performance characteristics. The "Opportunity Algorithm" is an excellent exercise conducted with customers to achieve a robust, prioritized list. An example for a high-pressure low compliance balloon catheter, currently key features in the percutaneous transluminal angioplasty (PTA) market, might be "effective displacement of occlusive vessel lesion without balloon "dog-boning" or rupturing of the vessel." "Solutions" are not a part of the input side of the input-output matrix.
R&D engineers should be encouraged to explore internal and external technical resources, with appropriate confidentiality in place, to identify the right output pieces of the input-output matrix. How could an engineer experienced in interventional neuro know the key performance characteristics of balloon catheters used below the knee?
Realization of a new product project from preliminary design definition to commercialization is considering innovation developed for long-term production. Often, manufacturability is not considered until late in the device development process. This is especially true for start-up companies that may not have manufacturing facilities or specialized experience to understand the true scope of the device development project. Outsourcing multiple phases of production to multiple partners can result in disparate processes and product evaluation standards slowing the time to market, scaling to volume manufacturing, and future manufacturing efficiencies to reduce cost later in the product's life cycle.
Working with well integrated, yet specialized contract manufacturers offers medical device designers access to very experienced project management teams that facilitate implementation level decisions for those who are closest to day-to-day work. When matters like quality management, design transfer, process control, and validation are developed early alongside manufacturing partners, time to market can dramatically improve. For example, typical new balloon catheter projects including necessary design changes and verification and validation (V&V) should take months to complete, not years. (See Figure 1)
Device engineers must understand development and manufacturing costs early in the design and development phase of complex medical devices. Senior leadership will look at the forecast for many projects and ask the following questions that new products project teams need to be prepared to answer.
What is the competitive advantage of this product and how will the company sustain that competitive advantage? Are there design changes planned to stay competitive: Lower profile, improved functionality, time savings?
What is the plan to reduce cost over the next three years when the product faces increased competition? No senior leader wants to hear the company is locked into a supplier without options, or that volume is the only path to control cost. Successful project teams that win internal approval research and develop downstream solutions when they are considering contract manufacturers to respond: "The contract manufacturer we're working with can develop our product, manufacture it for us with volume discounts, and transfer manufacturing to us if/when we want to bring manufacturing in-house."