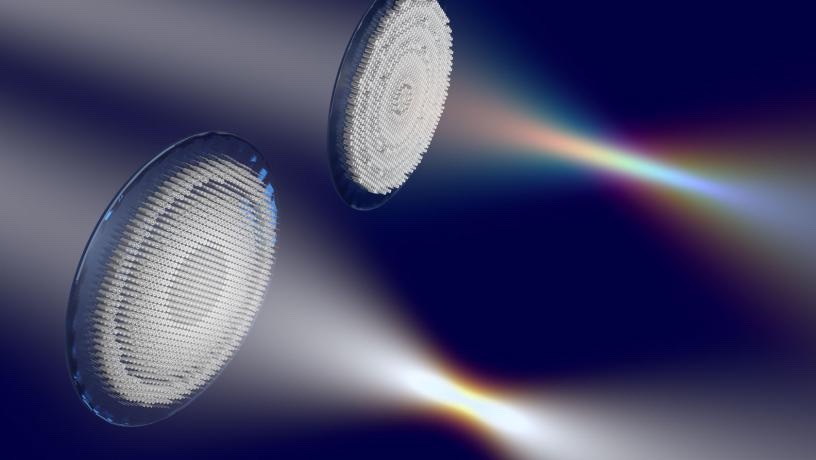 Researchers have created the first flat lens capable of correctly focusing a large range of colors of any polarization to the same focal spot without the need for any additional elements. Only a micron thick, their revolutionary "flat" lens is much thinner than a sheet of paper and offers performance comparable to top-of-the-line compound lens systems.
Using their expertise in optical metasurfaces — engineered two-dimensional structures — to control light propagation in free space, the researchers built flat lenses made of pixels, or "meta-atoms." Each meta-atom has a size that is just a fraction of the wavelength of light and delays the light passing through it by a different amount. By patterning a very thin flat layer of nanostructures on a substrate as thin as a human hair, the researchers were able to achieve the same function as a much thicker and heavier conventional lens system. Looking to the future, they anticipate that the meta-lenses could replace bulky lens systems.
The team fabricated the meta-lenses using standard 2D planar fabrication techniques similar to those used for fabricating computer chips. They say the process of mass manufacturing meta-lenses should be a good deal simpler than producing computer chips, as they need to define just one layer of nanostructures—in comparison, modern computer chips need numerous layers, some as many as 100. The advantage of the flat meta-lenses is that, unlike conventional lenses, they do not need to go through the costly and time-consuming grinding and polishing processes.
Because the flat lens can focus light with wavelengths ranging from 1.2 to 1.7 µm in the near-infrared to the same focal spot, it can form "colorful" images in the near-infrared band because all of the colors are in focus at the same time — essential for color photography. The lens can focus light of any arbitrary polarization state, so that it works not only in a lab setting, where the polarization can be well controlled, but also in real world applications, where ambient light has random polarization. It also works for transmitted light, convenient for integration into an optical system.