The mission of the Rice 360° Institute for Global Health Technologies, part of Rice University, Houston, TX, is to bring together faculty, students, clinicians, and private and public sector partners to design innovative health technologies for poor settings around the world, increase access to these technologies, and prepare students to lead tomorrow's global health technology workforce. Its undergraduate program in global health technologies, Beyond Traditional Borders (BTB), allows students to work in interdisciplinary teams to design technologies addressing challenges to healthcare delivery identified by clinicians in the developing world.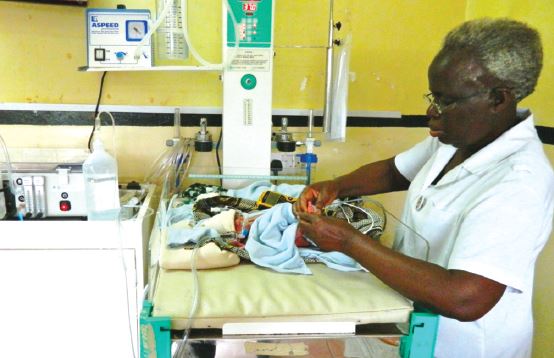 One of those projects is designed to combat respiratory failure, which is a leading cause of infant mortality in the developing world. Conditions compromising respiratory function, including prematurity and infection, account for most of the 4.9 million neonatal deaths annually in developing countries.
Bubble Continuous Positive Airway Pressure (bCPAP) technology to keep a child's lungs inflated and make it easier for them to breathe is particularly beneficial for premature newborns with immature lungs and for infants who are fighting severe respiratory infections. It has been estimated that bCPAP could reduce neonatal mortality by as much as 30 percent in low-resource settings, but at $6,000, these systems are too expensive for most healthcare facilities in the developing world.
Doctors at Queen Elizabeth Central Hospital (QECH) in Blantyre, Malawi, challenged Rice's BTB students to come up with a lower-cost alternative. The students, led by Bioengineering Professors Rebecca Richards-Kortum, PhD, and Maria Oden, PhD, and mentored by physicians in Malawi and Houston, created and developed a rugged bCPAP system to combat acute respiratory infection in infants.
How It Works
The bCPAP system developed by the BTB students includes a flow generator, patient interface, and CPAP generator. The CPAP system functions on ambient air or air blended with supplemental oxygen. The flow generator provides air flow to the infant, and an optional oxygen port allows users to treat patients with supplemental oxygen. A teaching module, user manual, and repair manual are included with the system.
Studies show that the students' bCPAP model delivers identical oxygen therapy to the therapeutic delivery systems used in leading US hospitals, including Texas Children's Hospital, but at a fraction of the cost. The program's small-batch production unit can be sold for an estimated $400 compared to existing commercial bCPAP devices. The system can be repaired by replacing a $1 diaphragm every two years.
Based on initial feedback from physicians at QECH, further design modifications were made to the bCPAP device. Rice 360° and its partners, the University of Malawi, Baylor College of Medicine, and 3rd Stone Design, evaluated the low-cost bCPAP device in a clinical trial at Queen Elizabeth Central Hospital in 2012, developed training programs, designed a commercial prototype, and held a countrywide stakeholders meeting to gather feedback on the device. With transition-to-scale funding, the team, joined by MD Anderson Cancer Center, will build on this work to implement the device in all central and district hospitals in Malawi, develop a campaign to educate mothers about bCPAP, and assess the device's cost-effectiveness. An estimated 178,000 babies could be saved each year if the device is disseminated throughout Africa, Richards-Kortum said.
Where It Stands
The team recently received a grant from the Saving Lives at Birth partners, which include the U.S. Agency for International Development, the Government of Norway, the Bill & Melinda Gates Foundation, Grand Challenges Canada, and the UK's Department for International Development, and is working with stakeholders in Malawi as well as private industry partners to test, refine, and scale the low-cost system to rural hospitals throughout the African country. In July 2012, Rice 360° won a Saving Lives at Birth transition grant to implement the bCPAP device in every central and district hospital in Malawi.
Professors Richards-Kortum and Oden, who jointly established the BTB engineering design initiative in 2006, have guided more than 3,000 students through the program's in - vention process, resulting in 58 health technologies that are helping 45,000 people in 24 countries.
In May, the two professors were named joint recipients of the $100,000 Lemelson-MIT Award for Global Innovation for 2013, which they are donating to renovate the neonatal ward at their partner hospital in Malawi, and create an innovation site where a suite of technologies that reduce neonatal mortality in low-resource district hospitals can be developed, refined, tested, and scaled.